Lionel Messi has arrived in Paris (right) with his wife and children for his medical with
Paris Saint-Germain where he will sign a £1million-per-week, two-year deal after leaving cash-strapped Barcelona.
The 34-year-old was pictured at Barcelona airport alongside his wife Antonella and their
three children, Thiago, eight, Mateo, five, and Ciro, three earlier on Tuesday.
Antonella, 33, later posted a selfie alongside her husband (left) as they sat on their private jet waiting to fly to France.
But the Argentine star touched down later in the afternoon and was pictured waving to
the supporters who had gathered to see Messi's arrival at Paris-Le Bourget Airport.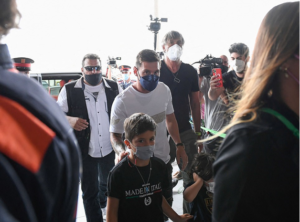 PSG have posted a teasing clip to their Twitter account (inset), showing six Ballon d'Or
– the amount Messi has won – in front of the Eiffel Tower and space in the dressing
the room between Neymar and Kylian Mbappe, who the Argentine is likely to play alongside in the attack.
Sources at the French club confirmed Messi's lawyers had been poring over the contract proposal since Sunday but gave it their approval this morning.