Six police officers who are alleged to have killed the two brothers from Kianjokoma in Embu County have filed a case in court seeking to have the two bodies exhumed.
In a certificate of urgency, the six; Benson Mbuthia, Consolota Kariuki, Nicholas Cheruiyot, Martin Wanyama, Lilian Cherono and James Mwanikiwere, want the court to order that an inquest be done first before any charges are preferred against them.
"When postmortem on the cause of death of the two deceased brothers Benson Njiru and Emmanuel Ndwiga was conducted, the petitioners chosen pathologists were not present… this the prejudice of having a post mortem report procured by the respondents," reads the court papers filed through their lawyer Dunstan Omari.
It is their argument that while being ferried together with others and in the same police vehicle, the two brothers "in a suicidal act while escaping lawful custody jumped out of the moving police vehicle thus succumbing to injuries."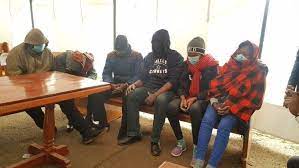 The six officers have since been taken to Mathare hospital for mental assessment.
They also want the court to order that their phones be released so as to transfer money to their families and lawyers.
"A conservatory order be issued restraining IPOA, DPP and IG from commencing any criminal proceedings relating to the death of the deceased until the inquest is concluded on merit," reads the petition.
The six accused, who were detained at Capitol Hill police station to allow police officers to complete investigations, also want to be released on bail pending the conclusion of an inquest in respect of the death of the two brothers.
"An order does hereby issued to admit the petitioners from taking plea in any criminal court in respect to the death of the two deceased until the inquest is concluded," reads the petition.