Adele's love life is back in the headlines…and on the court.
The singer is reportedly dating LeBron James' agent, Rich Paul. The two made their first public appearance together as they watched the Phoenix Suns take on the Milwaukee Bucks during Game 5 of the NBA Finals at Phoenix's Footprint Center on Saturday (July 17)
ESPN's Brian Windhorst seemingly confirmed their romance during an episode of "The Lowe Post" podcast following Saturday's game.
"Rich Paul, [LeBron's] agent, brings his girlfriend to the game to sit next to LeBron. His girlfriend is Adele," said Windhorst. "Rich Paul is at the game with Adele. … This is the first time that they've come out in public together. So this will be all over the tabloids, especially in England tomorrow."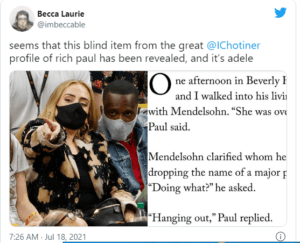 The 15-time Grammy winner was previously linked to Skepta. However, Adele denied that she was in a relationship. "I'm going back to my cave now to be the (single) cat lady that I am!" she wrote following her hosting gig on "SNL" in October.
Adele, who has an 8-year-old son Angelo, finalized her divorce with now-ex-husband Simon Konecki earlier this year.