Recognizing Remarkable Leadership in Environmental Conservation and Youth Empowerment
Gurugram, Haryana 4th August 2023– We are thrilled to announce that Mr. Victor Opiyo Okello, the visionary founder of Weforest International, has been honored with the prestigious Global Environmental Stewardship Honor 2023 by the Rajput and Sikh Foundation. This esteemed recognition celebrates Mr. Okello's exceptional contributions to environmental conservation, reforestation initiatives, and inspiring the youth towards a sustainable future.
Under Mr. Okello's leadership, Weforest International has successfully planted an impressive total of 48,715 tree seedlings, fostering biodiversity and restoring ecosystems. His dedication to preserving the planet's natural heritage has not only led to tangible positive impacts on the environment but has also ignited a sense of responsibility and action among countless youths.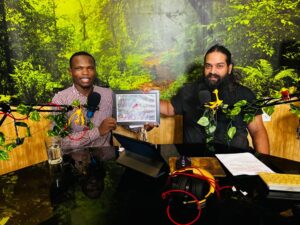 During his recent visit to India, Mr. Okello had the privilege of engaging in a captivating dialogue with Mr. Verhaen Khanna, the Founder of New Delhi Nature Society. This enlightening conversation was hosted as part of Nature talks, where the two environmental advocates shared their inspirational journeys towards conservation and the power of youth in effecting change.
Mr. Okello's efforts and commitment have transcended borders, inspiring individuals across the globe to take active steps towards protecting our planet. His tireless work resonates deeply with the core values of the Rajput and Sikh Foundation, making him a deserving recipient of the Global Environmental Stewardship Honor 2023.
The Rajput and Sikh Foundation's recognition not only highlights Mr. Okello's personal achievements but also shines a spotlight on the collective efforts of WeForest International in nurturing a greener and more sustainable world.
We congratulate Mr. Victor Opiyo Okello on this well-deserved honor and look forward to witnessing his continued impact on global environmental conservation.