Governor Alfred Mutua will be able to console himself this week from his break-up to long-time partner, Lillian Ng'ang'a.
And how will he do that exactly? He will have a collaborative birthday bash with Tanzanian superstar Rayvanny at Ole Sereni.
Lillian has been an excellent First Lady and even though she will do some projects under the Lillian Nganga foundation, we have agreed she can continue with her county projects.
She will be a close advisor as I Govern Machakos County and run for President because I trust her sharp insight and heart. She has always been my number one fan. Our love for each other is permanent but I think at times, space and new directions are important.
I thank God for bringing Lillian into my life and the many ways we have made each other grow. We have had a laugh and at times a tear but all in all we have been a power couple and very happy. We celebrate life and are pleased that we have reached this decision in a mature, agreeable manner.
I am a happy and blessed man and we have agreed we will protect and support each other.
Mr. Mutua himself decided to promote the event on his own Facebook page writing;
Sunday, August 22nd, is my birthday and also the birthday of Rayvanny – We have decided to hold a special double birthday party for a few people on Sunday afternoon. Please get your free ticket and join us for food and music.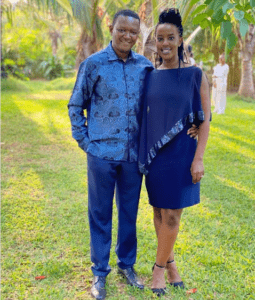 Most of his fans and followers were surprised and said as much in the comments section. Other comments were downright brutal in light of his recent break-up. Some of them are below;
Happy birthday in advance. God's blessings always be with you.
This will be the best place to pick another rib thank God he made plenty of them happy birthday in advance Kiongozi
You never learn. You keep entertaining these people and they get right into your bedroom. Happy birthday
It's ok if you choose not to invite our local artists, it's your birthday but at least Juliani could have spiced the event.
Happy birthday in advance, go back to your first wife.
Birthdays are meant to mark a certain milestone in a person's life. Glad you chose to mark yours in style.
Happy birthday in advance Governor. Life is a journey, and more like travelling in a bus you got to know where and when to alight (kicking away baggage).…
You need to be happy no matter what, let's meet there, birthday cake loading.
You will get a chance to cry pretending it's your birthday and we know it's because of Lillian.
Mutua from today henceforth learn this never commit to one woman.
Our "future president" is on flyers advertising "Double birthday party"?. Unless this is part of therapy (for you know what), please, focus. Achia hizi wasanii, kama yule Rasta man.
Hehehe! Kenyans don't play. They go for the jugular even when a man might be down and out.