Zari Hassan is a mother to four sons. The eldest recently turned 18 years and the South African-based businesswoman was excited.
In a recent social media post, the Ugandan-born Zari warned ladies, telling them that her sons won't be their 'Cash-App'
"Teach your daughters to get a job."
"My son won't be cash-apping sh*t…No Cap, Zari"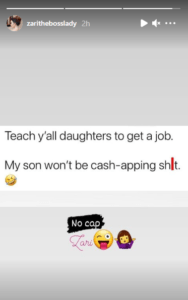 After her ex-husband Ivan Semwanga died, it was reported that he left most of his wealth and properties to his sons Pinto, Raphael and Quincy.
But Zari has in the past revealed that she and her late hubby built a business together. She is currently heading Brooklyn colleges which she and Semwanga are said to have contributed together in the building.