Juliani confirmed this week that he and former Machakos first lady, Lillian Ng'ang'a were an item. His admission came after weeks of speculation that tied the rapper to the beautiful chocolate-skinned lady.
Many Kenyans were amazed at his great luck in dating such a handsome lady. Don't forget this is the same man who had also dated Brenda Wairimu when she was in her prime.
Most men were awed at his game and skill at being able to land the two stunning women, comparing him to Omar Lali, himself!
Today morning, disclosed that he had been threatened by an unknown number about his new romantic relationship.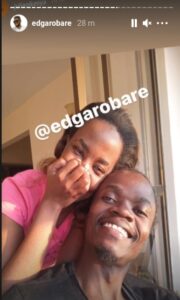 It was so bad that Juliani took the threats seriously and immediately went and filed a police report.
Boniface Mwangi, a friend of the couple decided to wear his activist pants again and even revealed more about the situation on his social media. He wrote,
"My very good friend Juliani was threatened yesterday. Someone called him and texted using 0773912088. He told Juliani to stop posting pics posing with his friend Ng'ang'a Lilian, and if he continues, they will kill him. He has recorded a statement at Kileleshwa Police Station. We must respect personal choices. Do what you want with your life. Love who you want. It's your life. Love is a personal choice."
This is where I come in. I agree entirely with what Boniface said but I have possible reasons as to why Juliani was threatened. They are;
Firstly, a pretty and beautiful woman like Lillian shouldn't date down, according to the people who threatened Juliani.
What do I mean? These people believe that women like Lillian should only date on their level, men with money and influence.
I believe that if Lillian had moved on to an equally wealthy man of similar stature, I don't think that that person would have gotten such threats
View this post on Instagram
Secondly, that Lillian would go for Juliani must be a punch in the gut. These people don't see what Lillian sees in the rapper.
To them, money answereth all things, and in this case, women as beautiful as Lillian shouldn't date men who aren't as wealthy as they are.
Thirdly, the types of men who have threatened Juliani think that their money should buy a woman forever, so they take it as a slight when the woman moves on. "If they can't have that woman, then nobody should", is the motto. It is an ego investment for them.
But because men like these cannot control the woman anymore, they go for the low-hanging fruit, in this case, Juliani and see him as the problem.
At the end of the day, we shouldn't take these threats against Juliani lightly, people have been killed for lesser in life. I hope that the men who threatened Juliani chill out. They should meditate on the phrase, "Don't hate the player, hate the game".