Horrifying video has emerged, showing the body of an Afghan man crushed in the wheel arch of an evacuation flight out of Kabul airport amid a desperate rush to leave the country after the Taliban seized control.
The footage appears to have been filmed through a porthole in the rear door of a C-17 military transport, with US officials confirming that human remains were found in the wheel well of one of those planes which evacuated Kabul on Monday bound for America, but diverted to a third country after declaring a state of emergency.
Meanwhile more footage showed piles of US and Russian-made guns dumped on shelves at the airport alongside body armour and helmets.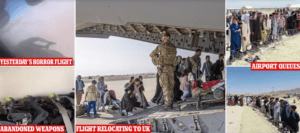 Thousands of former Afghan government staff, security forces and police have joined at least 40,000 foreign nationals trying to escape the country – rushing the runway of Kabul's Hamid Karzai airport which had to be closed Monday.
Evacuations resumed today after troops secured the runway, with France, Spain and Indian confirming that diplomatic staff are being flown out, with Russia and Indonesia also announcing partial evacuations of their embassies.