As dramatic pictures showed Kabul airport surrounded by scenes of anarchy and anguish, the British Paras mounted a frantic last stand to prevent the operation descending into chaos as ministers were told the final flights for UK citizens and Afghans maybe Tuesday this week to allow 'an orderly withdrawal' from Kabul by troops on August 31.
Women and children were crushed in a stampede as huge crowds tried to escape the Afghan capital and reach the sanctuary of an evacuation flight.
US President Joe Biden said it was one of the 'most difficult' airlifts in history and admitted he could not guarantee what the 'final outcome' would be.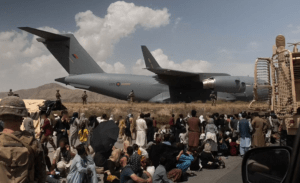 He said he wanted all Americans out of Afghanistan by August 31 – a move that appears to set a deadline for the evacuation of all Westerners and their allies.
Boris Johnson said Britain was having to 'manage the consequences' of the 'emphatic' decision by the US to withdraw its troops from the country.
He admitted the rescue effort faced 'formidable' challenges and the situation in Afghanistan was 'precarious'.