Two police officers were killed on Wednesday 25/08/2021  in Dar es Salaam, Tanzania after an attacker went on a shooting spree at a highly guarded area housing several foreign missions including the Kenyan embassy.
The trigger-happy attacker identified as Hamza Hassan Mohamed was however gunned down by security officers upon reaching the French Embassy gate.
Videos posted on social media show the man carrying two assault rifles opening fire indiscriminately as he walked along Ali Hassan Mwinyi Road.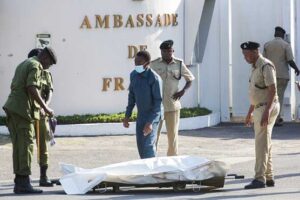 The area houses various foreign missions including the Kenya High Commission in Tanzania, the French Embassy, Japanese Embassy, Russian embassy and is a close proximity to financial institutions such as Stanbic Bank and KCB Bank.
Tanzania's Inspector General of Police (IGP) Simon Sirro has since confirmed the incident.
A report on Tanzanian local daily The Citizen quoted an eye witness saying that the man arrived at Stanbic Bank headquarters and went straight to a police shed which had two policemen and shot them dead at point blank before taking their weapons.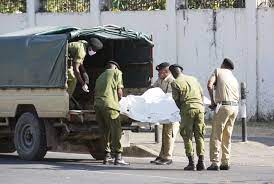 Motorists along the usually calm Oyesterbay/Upanga area were forced to abandon their cars as they ran for dear lives.
Before coming down under a hail of bullets the man who was who was wearing a checked shirt and khaki trousers was seen punching in the air and chest thumping.
The motive of the attack remains unclear.