Traffic on the Nairobi-Mombasa Highway was disrupted momentarily on Wednesday as
Bangladesh residents trooped to the highway, picketing over water shortage.
Photos from the snarl-up showed scores of women and girls backing the road with water tanks and jerry cans.
Police officers were forced to lob tear gas at the protesters who had vowed to stay put until the menace is resolved.
Residents say the water shortage got worse in the last two weeks and has left them desperate and angry.
"Mimi hapa sijaoga mwezi mmoja, nkunywa tu chai sababu mati iliyoko ni kama mtungi
nusu tu," a resident told Citizen TV "Nguo ni chafu, maji tuliambiwa itakuja Bangala lakini bado,"
Water pipes were destroyed during ongoing road constructions in the area and are yet to be fixed.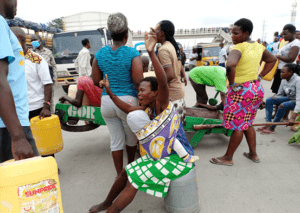 According to the residents, the Mariakani road which is impassable stopped a good
Samaritan who had been supplying water to the locals during the shortage.
"Kuna mtu alijitolea kawa analeta maji kama lori tano kwa siku, halafu ikawa lori moja kwa siku," one of the residents said on Wednesday.
Diana Odhiambo, a local, said her children don't bathe before going to school and stink.
She also claims that her husband, a manager, has been demoted due to the water shortage, claiming that he stinks at work.