Max Verstappen won the Dutch Grand Prix and reclaimed the world championship lead from Lewis Hamilton.
In front of his adoring crowd, Verstappen led from pole and withstood all the slings and arrows of Mercedes' strategy calls to claim his 16th career victory and first in homeland.
Hamilton finished second despite Mercedes using his team-mate Valtteri Bottas, who finished third, as a pawn in their unsuccessful game of ensnaring Verstappen, who holds a three-point advantage.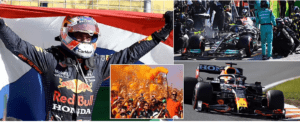 It was a good attempt by the world champion team but the combination of Verstappen's speed and the pace of his Red Bull was too much to overhaul.