Cristiano Ronaldo's 'ex-fling' Natacha Rodrigues issues warning to his girlfriend Georgina Rodriguez
Model Natacha Rodrigues, who claims she and Cristiano Ronaldo enjoyed a fling after he first met Georgina Rodriguez years ago, has issued a stark warning to the footballer's girlfriend.
Speaking to The Sun On Sunday, Natacha, 25, said: 'Cristiano dropped me like a brick and he could do the same to Georgina.
'They say leopards never change their spots and professional footballers get a lot of attention from beautiful women who throw themselves at them. It will be the same in Manchester as it was in Europe. Georgina must keep an eye on him if there's to be trust between them and a future for them.'
Ronaldo, 36, returns to football club Manchester United next week in a match against Newcastle, after being resigned to the team for £12.9 million, having left in 2009.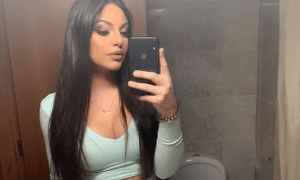 He reportedly spent two years sending secret messages to Natacha, 27, who claimed in 2017 that the footballer was in a committed relationship with his partner Georgina – who has since given birth to their daughter Alana – while begging to 'see her bum in the flesh'.
After months of messaging, the pair allegedly met up, and ended up having sex.
She added: 'I was hurt by the way he dumped me by blocking me on Instagram after we slept together, and it still hurts now. There's always going to be a before and after in my life with Cristiano and the feeling there could have been more for us, even if we didn't end up becoming boyfriend and girlfriend.'
Love On Top star Natacha claimed that she and Ronaldo began flirting via DM in 2015, shortly after his split from Russian model Irina Shayk.
When recounting the dalliance to The Sun in 2017, she explained that the footballer messaged her, saying: 'I love your bum. I want to see it in the flesh.'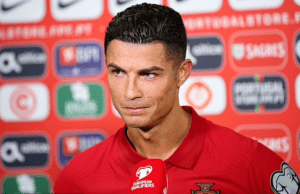 Bedding her months after meeting his partner, Ronaldo messaged Natacha hours later saying 'top secret please', as wrote the publication at the time.
Portuguese reality star Natacha said that she feels used after the encounter. 'I knew he had a girlfriend but we became friends, there was trust between us, a bond,' she said at the time. 'He was a lovely person and after messaging for so long it was amazing to be with him. Our night together was special.
'But afterwards I told him I was going on a Portuguese reality show and he told me not to do it. By the time I came out he'd blocked me. Now I think he just used me for sex. I don't have regrets because being with him was like a dream come true but I feel betrayed.'
Natacha admits to instigating the contact between the pair.
She sent him a late-night picture of her behind on Instagram in September 2015 and captioned it: 'Enormous Kiss'.
She said: 'It was 1am and I did it as a joke! I never thought he'd reply. But at 6am he messaged me and things went from there.